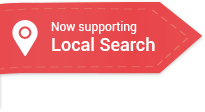 WordGraph
Word Vector Technology Based SEO Software
"Gives You The Top 10 Profitable Keywords That will get your site to rank higher!"
Sounds like Magic? Nah, is just some pretty amazing Artificial Intelligence.
Special Limited-Time Offer Ends In:
Here's Some Good News For You!
Discover the world's first, most reliable Word Vector Tool designed to help you outrank your competitors no matter the niche.
WordGraph can help you overcome the hassle of which research tool and keyword to use on your site to acquire the highest ranking in SERP which naturally brings in highly targeted traffic. It does this by uncovering your competitor's keywords and see what makes them rank in the first place!
As I believe you've experienced it on other Word Vector tool, most of the time you'll just be given a list of keyword suggestions, not knowing what to do with it right? I'm sure you've wondered, how or which keywords would give you the best results.
Here, you will be shown high impact keywords that is sure to reward you with solid top ranks. This ranking opportunity is like no other tools out there.
The next thing you gotta do after implementing those keywords is to sit back and witness your site outrank your competitors one by one, till it reaches the #1 rank in SERP.
A Huge Opportunity To Rank #1 That No One Is Talking About

Hey there, I'm Brandon, Founder and CEO here at WordGraph.io.
You're probably on our website because you want to drive more traffic, rank high and grow your business to new heights.
But….how?
Like you, I struggled with ranking my website on the top of the SERPs when I first started out as a marketer. I don't know about you, but I've always find it hard having to deal with so many criterias to rank a website.
You know exactly what I'm talking about, right?
You work too hard to be wasting time on things that aren't pushing you forward. So let's skip over the hard part, and start getting you results.
These days I am able to trust my websites to bring in traffic and conversion since ranking #1 on SERP. Before I came up with my own solution to this, I was honestly on the verge of giving up. But, I remembered the reason I embarked on this journey. To become a successful market leader in my field.
All along, the answer to rank high was crystal clear. I knew that getting to the Top 10 in search results was the way to gain maximum traffic and conversions hence, I worked my way towards it. Also, running into multiple others who encountered the same, never-ending battle I went through, my equally driven team and I started WordGraph!
As soon as I came up with this, everything instantly got easier.
We'll help you achieve what took months and years for your competitors, in a limited amount of time, on a smaller scale of course.
It may sound impossible to you, but it CAN be done. In fact, we are so confident in our ability to help you, that we'll guarantee results ASAP, and GET the results you want.
That's our promise to you.
Introducing...
Word Graph, The World's First Intelligent Word Vector Software

WordGraph is powered by one of our new proprietary algorithm, Word Vector Technology, allowing it to understand what you are looking for when searching for a keyword. It is also capable of understanding small nuances & differences between similar words and then grouping them accordingly.
What's unique in WordGraph is besides its AI implementation, the tool also uses algorithms that are based off on techniques like Word Vector and Co-occurrence analysis. These are established as some of the most advanced contextual analysis methods in Natural Language Processing.
All the curated websites go through a specific preprocessed Word Graph generations. Through several quick rounds of generation, Word Graph of each website will then be shown to you.
So, how can you achieve such smart generation of Word Graph? Simple!
Knowing the true keywords, you will finally win your competitors and snatch away all their audiences!
Just by entering your URL and keyword, you will get to know how close your content/website is to getting ranked on the first page of SERP. You will also have your Word Graph score and metrics presented so you can see the comparison within the Top 10 results.
Until now, only the market leaders get to rule the industry, and other business don't stand a chance to rank. Word Graph changes everything because it helps you discover most competitive keywords that your top-performing competitors are currently taking advantage of.
Knowing the true keywords, you will finally win your competitors and snatch away all their audiences!
Just Follow The 5 Simple Steps To Up Your Rank Game Today
1
Insert Your Seed Keyword, Preferred Location & URL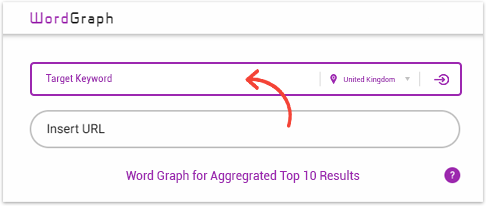 2
Benchmark Your Word Graph Against TOP 10 Results
3
Compare Your Keywords vs Your Competitors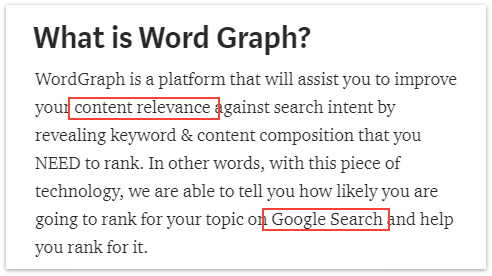 4
Optimize Your Content With The Missing Keywords
5
🚀 Rise Above Your Competitors With Word Graph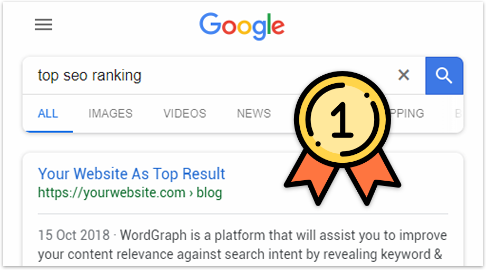 Check Out How It's Possible Using This New Ranking Opportunity
Word Graph shows you keywords that are contextually and mathematically linked to your main keyword. It is created based on Advanced Natural Language Processing Techniques and trained using state-of-the-art Machine Learning framework.
Speaking about intelligence, our proprietary trained AI model understands unintentional or deliberate misspellings, duplicates, abbreviations, word placement swapping, and multiple fields of different types. For instance, it can draw the inference between:
"Stevan Alexander

Lee"

vs "

Lee

Steven Alexander"
"

123 Queen St

shop 2, Florida" vs "Shop 2

123 Queen Street

, Florida"
"AIA

REIM"

vs "AIA

R

eal

E

state

I

nvestment

M

anagers"
"

What To Eat

In Iceland" vs "

Top 10 Foods

To Eat In Iceland"
See, Word Graph is able to understand what they exactly mean even with a little variation. Such a brilliant advancement, right?
What's even better, you can also uncover your competitor's keywords and see what makes them rank in the first place!
Read on...
Do You Know It's All Based On Google?
Word Vector is a model pre-trained by Google. Yes, the mighty search engine we all are fighting to get a spot on. Wanting computers to master natural language better, Google came up with a model called Word Vector back in the day. Word2vec is constructed to understand the closest words related of a keyword.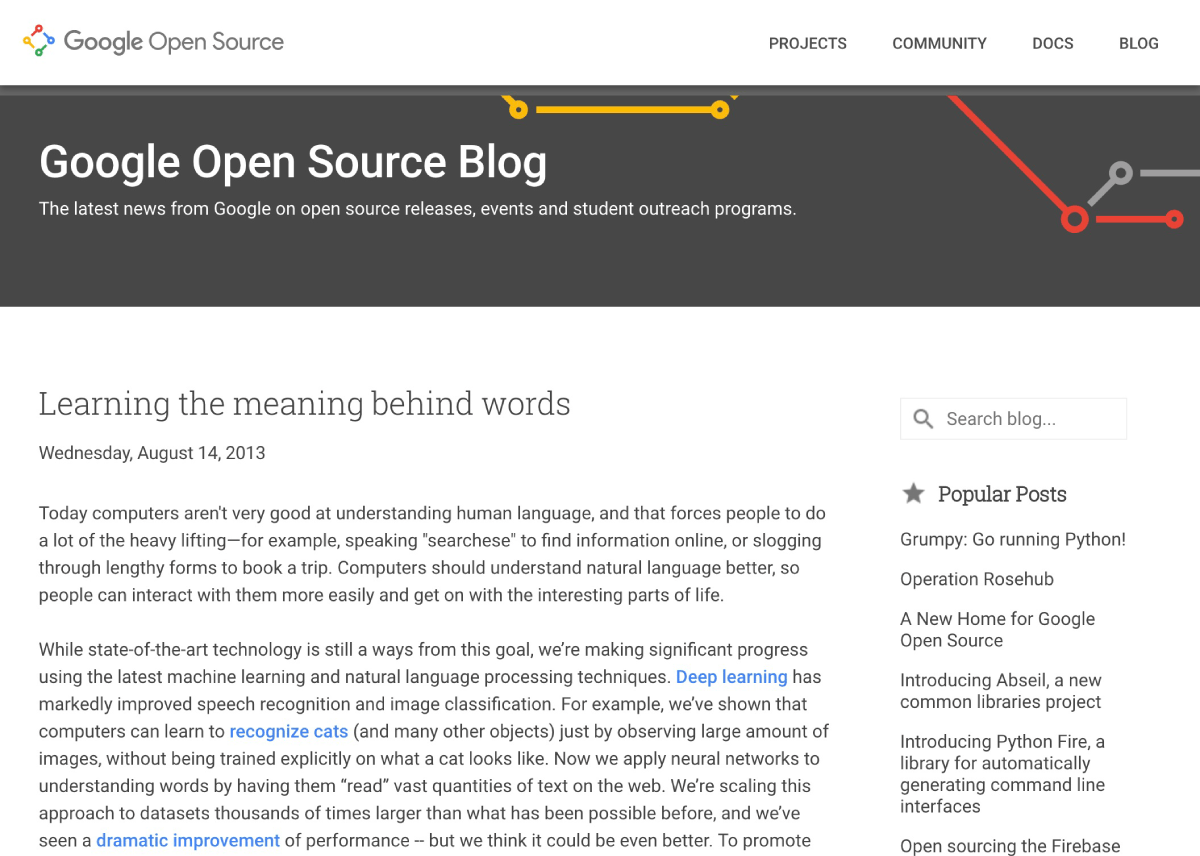 Using that idea, WordGraph allows you find the keyword composition the Top 10 ranking websites are using and do the same!
This machine learning model is not a static piece of code - it feeds on data. We are constantly updating the technology, tweaking, and learning Google's way of making predictions better for you!
Even The Market Leaders Approve!

"Using Word Vector, you can do things like measure the similarity between words or documents, find most similar words to a word or phrase, add and subtract words from each other to find interesting results, and also visualize the relationship between words in a document."
JR Oakes, Director, Technical SEO at Adapt Partners

"Google's algorithm RankBrain, uses Artificial Intelligence to embed vast amounts of written language into mathematical entities — called vectors — that the computer can understand."
Greg-Corrado, Senior Research Scientist at Google

"RankBrain, Google's algorithm tries to understand your query like a human being. It breaks down a request into a set of "word vectors," which it then uses to understand what the query means."
Shane Barker, Digital Marketing Strategist
These Are What Those In Top 10 Are Ranking For



The higher your Matching Rate Score % is, the more green keyword boxes will be ticked. And you surely want to achieve that. By implementing those keywords in your content, it'll help you greatly in your ranks.
After all, don't you want to discover the keyword composition your competitors are using to rank high on search result in the market and build your business?
Your competitors have spent months or years connecting with their audience. They've build the bond over time as they find what works and what doesn't. So, why not benefit from the work your competitors have done already and let their websites help you uncover the best keywords in your market?
Gone are the days of being outranked!
What can WordGraph Do For You?
1
Discover the competitive keywords you want to rank -
and RANK them for yourself!
2
Reach the right prospects with the right message at the right time -
get more Qualified TRAFFICS!
3
Reveal highly relevant & profitable keywords, include them in your content -
optimize your CONTENT creation!
4
Monitor your SEO performance with comprehensive rank tracking -
get INSIGHTFUL overview of your progress!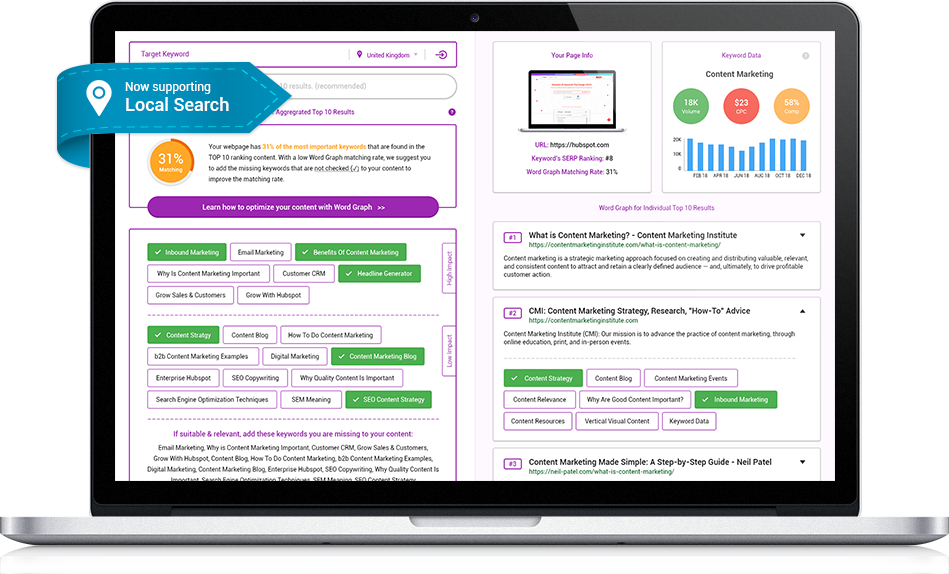 A Platform Determined In
Helping You Seize Your #1 Ranking
No matter what type of marketing goals you have, we can help you reach them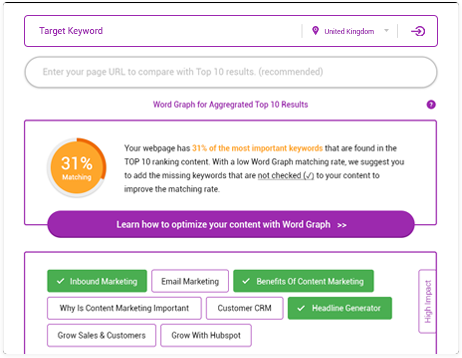 Perform Unlimited Word Graph Analysis
At WordGraph, there's no limit to your Word Graph analysis! Now you can get all the intelligence you want and rock the market hard!
Learn The Most Powerful Keywords
Powered By Word Vector Technology
WordGraph uses the Word Vector Technology to give you the most relevant keywords that your top-performing competitors are currently using.This is extremely powerful when used in SEO to help boost your rankings through the roof.
Add Location Based Search
Take control over your search for local data up to 100,000 cities worldwide and dominate the 1st Page of SERP!
Complete Keyword Composition of TOP 10 Results
Discover keywords you lack or have in common with your competitors. See how your competitors play their keyword strategy to rank atop the SERP.
Monitor Real-Time Performance Of Your Websites
Monitor your keyword success with our extensive ranking monitoring, strengthen your leading SERP position and stay ahead of the competition.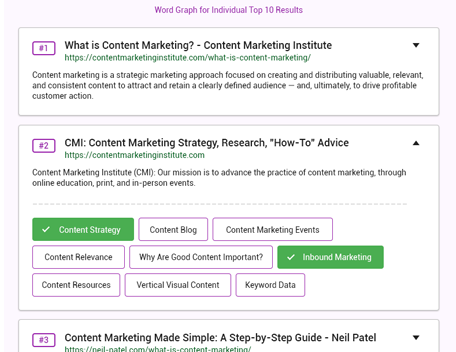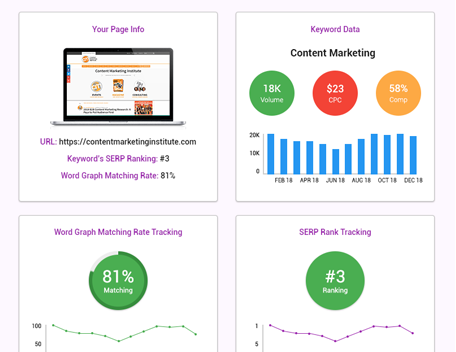 Evaluate Performance Potential For Your Keywords
Determine the value of your keywords with performance indicators such as Search Volume, Search Trend, CPC, and Competition.
Track Your Optimization Progress
Keep, Save and Track different keywords in Project Manager. Over time, you will learn where you are making progress and able to evaluate your performance. You can spend less time pulling data and more time on optimization now.
How Are We Different From The Rest?
Advanced Features

Word

Graph
Others

Artifical Intelligence Trained

The first ever Word Vector tool leading with Neural Network & Natural Language Processing, studying how search engines work by bringing you closer to what they really want.

Word Graph Focused

Tells you an array of keyword composition you can use to rank by showing you keywords that are contextually linked to your main keyword.

Content Gap Analysis Engine

Use analytics to identify, compare and leverage strategies into action.

Understand Words & Meaning Naturally

Bridge the gap between different words with the same meaning. Eg. Understanding how "Stock Investment" and "Invest In Stock" are essentially the same thing.

Real-time Analysis

Using the power of intelligent tracking, it enables you to receive instant feedback from your latest optimization seamlessly.

Competitors & Results Driven

Keyword tool that is integrated with not just ranking benefits but also the aim of outranking your competitors without having to switch to other platforms.

Built-in Performance & Rank Tracking

See the AI in action for yourself on how a good Word Graph pushes your ranking up and making sure you stay on top of SERP.

Project Manager & Report Printing at your service

Make educated decisions regarding your competitors and keyword rankings from one platform with the Project Manager & Report Printing services.

Location Based Search

Check your localized search rankings from over 100,000 locations worldwide.
Listen To What Others Have To Say About WordGraph
(Thank you so much for testing it out and making this a polished tool!)

"So impressed with the WordGraph smart technology and the competitive keywords that are returned. I see improvement in my site's traffic so I really recommend everyone to give it a go! Very slick and loving it so far!"
- Noah Melvis,
International SEO Consultant

"Tried it the very first time today and I have to say, this is the most refreshingly well-designed competitor research tool I've tested on. Thank you for showing me how wonderful it is!"
- Cheylsea Mae,
Senior Copywriter

"By knowing my competitors Word Graph keywords, my rank has just improved by 5x over the past few days! You guys certainly deserve more attention for coming up with such a brilliant technology."
- Owen Jordan,
Digital Marketing Manager
Confirm Your Unlimited WordGraph Plan
No matter what plan you choose, you'll get unlimited access to WordGraph analysis

SUBSCRIBE
Unlimited Word Graph Analysis
Detailed SERP Analysis
Competitors Metrics
Keyword Data
100 Projects
Free Lifetime Updates
Support Team
Location Based Search
Data Exportation
Performance Tracking
Ranking Monitoring
White Label Report
Project Manager Library

SUBSCRIBE
Unlimited Word Graph Analysis
Location Based Search
Detailed SERP Analysis
Competitors Metrics
Keyword Data
500 Projects
Free Lifetime Updates
Dedicated Support Team
Data Exportation
Performance Tracking
Ranking Monitoring
White Label Report
Project Manager Library

Save 9 Months
SUBSCRIBE
Unlimited Word Graph Analysis
Location Based Search
Detailed SERP Analysis
Competitors Metrics
Keyword Data
1,000 Projects
Free Lifetime Updates
24/7 Dedicated Support Team
Data Exportation
Performance Tracking
Ranking Monitoring
White Label Report
Project Manager Library
Note! Due to the need of high computing power for Word Graph analysis, this pricing is only available to a limited number of users.
Once we fill our quotas at this pricing, we will be increasing the price significantly.
But Wait, There's More
We want to make sure you have everything you need in order to success so we're including this amazing bonus!
Exclusive Bonus
30 Days SEO Master Course
Subscribe to WordGraph today & you will receive this 30-DAY SEO Master Course as a bonus.
Get actionable SEO advice, strategy and tricks to increase your business revenue today.
Learn anytime, anywhere.
Hurry up! Subscribe now and get access to this course for FREE.
Special Limited-Time Offer Ends In:

Still Not Sure?
No Worries. Our Product Comes With A
100% Secure 30-Day Money Back Guarantee
No forms to fill out No questions to answer No hoops to jump through
We're completely confident that WordGraph is exactly what you need for your business strategy! But if for any reason you're not thrilled with this tool (which is highly unlikely), simply drop us a ticket and we will issue a full refund within the first 30 days of your purchase.
Frequently Asked Questions
What is WordGraph?
Wordgraph is a platform powered by Word Vector Technology, a proprietary algorithm based on advanced Machine Learning and Natural Language Processing techniques such as Word2Vec, Neural Network, and more. It is designed to analyze and improve your content relevance against search intent by targeting precise yet profitable keywords NEEDED in a competitive niche.
What separates WordGraph from other tools?
Other general keyword research tools provide related keywords together with the keyword data such as Search Volume, CPC, and Competition.
Powered by the Word Vector Technology, WordGraph is the first ever competitor keyword research tool that will enable users to include the best keyword composition in their content, which is focused on outranking the top competitors in a particular niche.
The trained AI model also has the ability to understand minor differences and nuances between similar words. It can understand unintentional or deliberate misspellings, duplicates, abbreviations, word placement swapping, and multiple fields of different types. This falls in line to how modern search engines like Google understands a web page semantically.
Will I Receive Free Updates To WordGraph?
All active customers will have free access to all future updates.
How Long Are Your Contracts?
There is no contract, and all plans can be adjusted at any time.
Do I Have A Money Back Guarantee?
Yes, we have a 30 days money back guarantee. You can also easily reach us from the user's dashboard.
What Type Of Payments Do You Accept?
You may pay for your WordGraph subscription with a credit card, PayPal or a bank issued debit card.
What Other Languages Do You Support?
Currently, the Word Vector AI algorithm only supports English Language.
Will I Be Able To Get My Billing Information?
You will get an official receipt after every payment you make.
Still have other questions?
Feel free to contact us at hello@support.wordgraph.io
Start Getting Guaranteed Results With The Right Keywords
Try It
RISK FREE
Today!
YES Guys!
I'm ready to get to the next level of search domination.






I UNDERSTAND THAT:
I will get INSTANT ACCESS to unlimited analysis
I will SAVE MY TIME tremendously using WordGraph
I will get REAL-TIME performance analysis of my site
I will get to benefit from a dedicated SUPPORT TEAM
I will dramatically INCREASE my traffic and rankings
I will have COMPETITIVE ADVANTAGE over other marketers
I will have WordGraph's AI technology that will make rankings stick
I will get to benefit from a 24/7 dedicated SUPPORT TEAM
I understand that I will not have to pay the NORMAL $129 PRICE
What Used To Take Hours… Now Takes Minutes!
"I must admit that this tool saved tons of my times from doing keyword research, brainstorming for the next content, and to keep tab on my site performance progress! Nice job team!" - Nixon J.